Always fresh and made in front of you, our cupcakes are available in mini or regular sizes. 
You can contact us in advance to have your order prepared in order to avoid the wait for preparation. You can also use the Order Online tab. 
Vanilla
Vanilla cake with a swirl of pink vanilla cream.
Chocolate
Smooth chocolate cake with chocolate glazing.
Marbled
Vanilla cake with a delicious marbled frosting of fudge and vanilla buttercream.
RED VELVET
Velvety cake with red chocolate topped up by cheese and cream glazing.
CHOCO-GANACHE
Chocolate cake with cheese and cream glazing with a famous and generous chocolate coulis.
S'MORES
Chocolate cake stuffed with marsh mallow and topped up with delicious glazing sprinkled with graham crumbs.
Maple
Maple cake with a surprise maple biscuit at the bottom, mounted with maple cream.
CARAMELO
Cake with caramel, crème anglaise ganache, caramel custard and a caramel coulis.
Unicorn
A multicoloured vanilla cake topped with vanilla buttercream, candy and a magical unicorn.
Black Forest
Chocolate cake stuffed with a cherry coulis. Everything is topped with our succulent whipped cream, sprinkled with dark chocolate shavings and a maraschino cherry.
CARROT CAKE
Delicious mix of carrots and spices. An all-time classic you will rediscover !
OH – CARAMEL
Chocolate cake topped with caramel in the center with an escalation of cream cheese, caramel coulis and chocolate ganache.
THE ORÉO
Vanilla cake with pieces of Oreo cookies mounted with Oreo buttercream, cookie crumbs and a piece of Oreo cookie.
THE TIRAMISU
Vanilla cake with coffee flavors topped with a delicious cream cheese frosting, sprinkled with cocoa and decorated with a chocolate-coated coffee bean.
LIME-COCO
A lime cake filled with Key lime, and cream cheese glazing powdered with coconut
flakes.
LEMON-MERINGUE
Vanilla cake with a lemon filling in the centre topped with toasted meringue
BIRTHDAY CAKE
White cake with multicoloured candies and its bubble gum glazing: a guaranteed return to childhood.
STRAWBERRY SHORTCAKE
Vanilla cake garnished with homemade strawberry jam, topped with vanilla whipped cream and white chocolate chips.
COOKIDO
A delicious cupcake covered with cookie dough, topped with our fudge icing and decorated with chocolate chip cookies.
CHOCO-BLEU
Creamy chocolate cake topped with vanilla buttercream.
SALTED CARAMEL
Vanilla base with a creamy caramel in the centre and fleur de sel topped with a creamy dulce de leche butter and salted delicacies.
Chocolate Raspberry
A chocolate cake base stuffed with our succulent raspberry coulis. All topped with our fudge frosting and a classic jujube raspberry.
APPLE CRISP
Apple and spice cake, topped with our famous cream cheese frosting and a homemade crumble.
WHEN CUPCAKE MEETS MASON POT...
Mille & Un cupcake fused their favourite cupcakes with Mason pots to create celebrity desserts that taste as good as they look. It can be bitten into or eaten with a spoon, or can also be the perfect gift.
« An all-time favourite ! »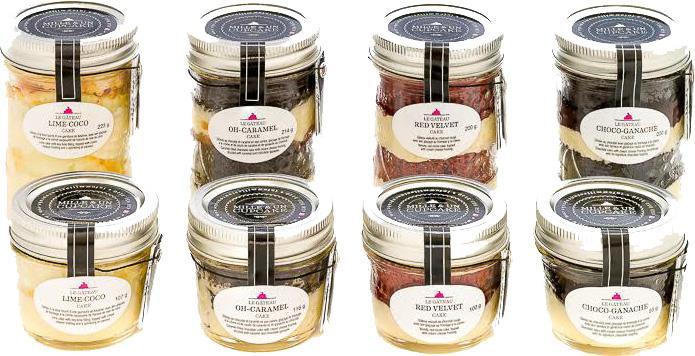 Fold open the cover to let out a sweet explosion with the RED VELVET, velvety cake with its red chocolate and its cream cheese glazing.
Plunge your spoon into the centre of the OH CARAMEL, chocolate and caramel cake filled with cream cheese, caramel coulis and chocolate ganache.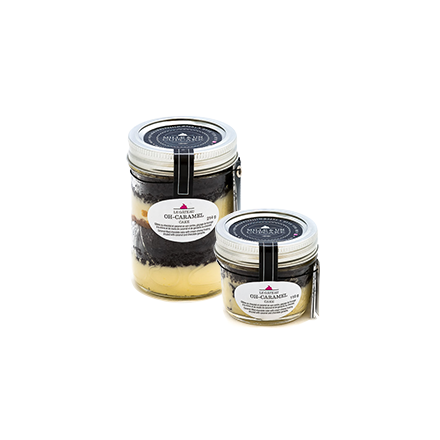 A lime cake filled with Key lime, and cream cheese glazing powdered with coconut flakes.
Chocolate cake with cheese and cream glazing with a famous and generous chocolate coulis.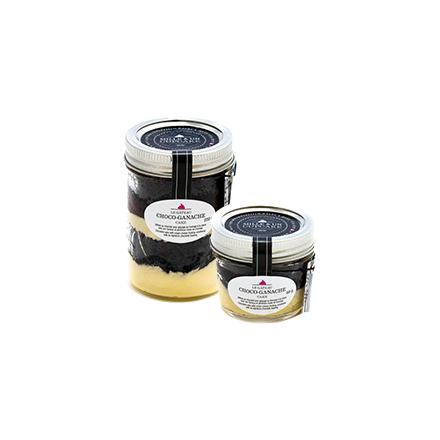 Perfect as a gift for all occasions. You can opt for customised packaging.
Do you take care of the dessert and you don't know what to bring? An impromptu dinner on the way? We always have tasty, ready-to-go cakes. We were inspired by our best cupcake sellers to develop our cake recipes.
OH-CARAMEL
Chocolate cake garnished with cream cheese, our delicious chocolate ganache and caramel sauce, all covered with our caramel buttercream.
RED VELVET
Red velvet light cocoa cake topped with our famous cream cheese icing.
BOSTON
Vanilla cake topped with custard and covered with vanilla buttercream.
CHOCOLATE FAN
Chocolate cake covered with a dark chocolate icing. It' s the big brother of the chocolate cupcake!
OREO
Oreo cake garnished with our Oreo Butter Cream with Oreo Cookies covered with our Oreo Buttercream and Chocolate Ganache.
BIRTHDAY CAKE
Multicoloured vanilla cake with vanilla buttercream and multicoloured candies.
Edible labels with possibility to write (Happy Anniversary, Thank you, etc.), available on the spot, do not hesitate to order.
our personalized "to-go" birthday cakes
You are at the last minute and you forgot to order your child's birthday cake? We have a solution for you ! Our popular To-Go Birthday Cake can be personalized to your selected theme. You just have to choose your color theme and your giant edible label. Visit our online store for all the details and to reserve yours.
Our personalized ready-to-go cakes are available in a 10-serving format. They cost $60.
For special occasions or for the pleasure of giving, choose our store! We will personalize a gift or sweet wrapping for your loved ones. 
At any time, if you want to personalize your gift basket further, you can select your sweet treats from our various products such as meringues, cookies, mason jars and many more. 
It's the perfect gift to give to a teacher, colleague, friend or just to thank someone you know. 
Know that we design treats for parties or special occasions like end of school, Halloween, Father's Day, etc. 
Cakepops

 

Cakesicles

Macaroons (box of 6 and 12)

 

Bag of mini macaroons

 

Milk chocolate coated pretzel sticks

 
Donuts

 

Artisanal cookies various models

 

Meringues

 

Popcorn Gourmais

 

Kand Ju candies

 

Artisanal chocolates

 
Follow us on our social networks to discover even more creations signed by 1001 Cupcake!